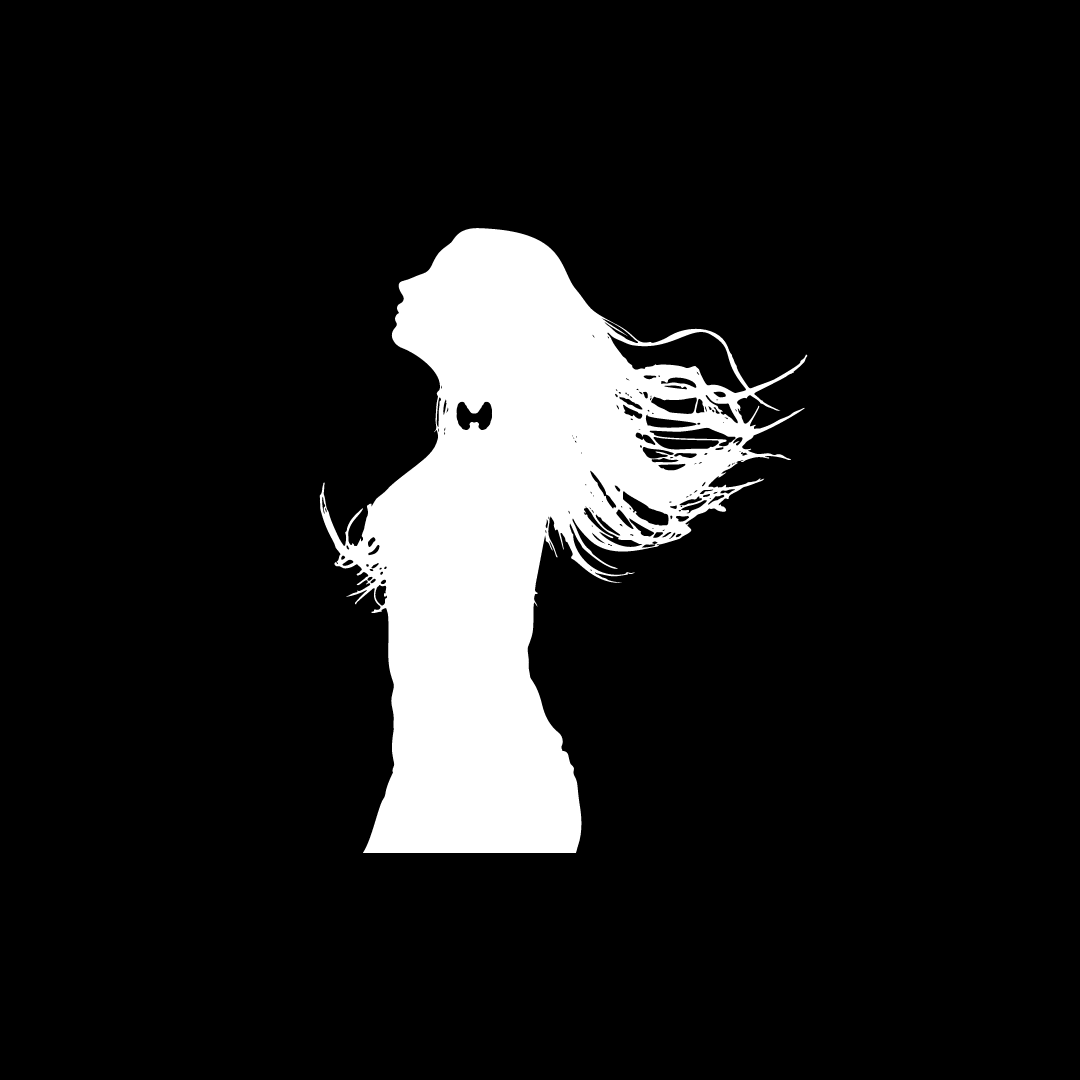 Imagine...



☑ Waking up every morning with energy
to do your everyday tasks
☑ Feeling more confident physically, mentally, and emotionally in your body

☑ Having more mental clarity and focus
at work or with your loved ones
☑

Having less bloating and less food sensitives after you eat


☑ Feeling empowered and in control of your Hashimotos symptoms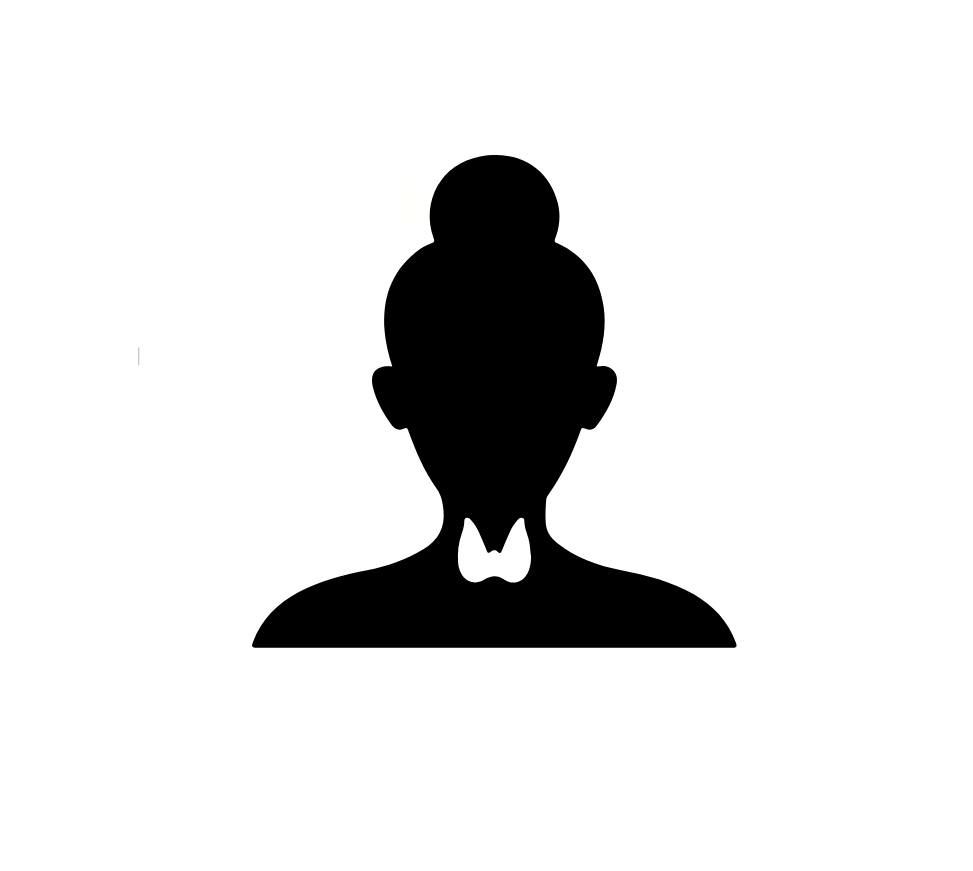 Hashimotos 101 is for you if...

☑ You've been told your thyroid labs "look normal" but you don't feel normal
☑ You're so exhausted you can barely get through your day without needing a nap
☑ You feel overwhelmed and frustrated with your symptoms and what steps to take to start feeling better

☑ You've gone from doctor to doctor, but still feel like you're not getting the answers and solutions you need to feel better
☑ You've already made dietary changes, but still experience symptoms that have not shown improvement-- ex: ongoing food sensitivities, skin issues, bloating, constipation, and/or weight gain


What Hashimotos 101 Students Are Saying...

What's Inside Hashimotos 101:
☑ 33 Learning Videos
☑ Thyroid Lab Work Reference Range Guide (see what optimal thyroid lab work looks like)

☑ Grocery Shopping Guide
☑ Quick + Easy Meal Guide
☑ Recipe + Cookbook Guide

☑ Blood Sugar Balancing Guide
☑ Gluten and Grain-Free Guide
☑ Step- by- Step Mold and Parasite Detox Protocol (15% off with practitioner code to order)
☑ Downloadable Toxicity Symptom Assessment (score yourself + see where your symptoms are actually coming from)

☑ 6 Resource guides (with clickable links + discounts on thyroid friendly products)

☑ 6 Reflection videos (to integrate what you are learning into your own life)
☑ Access to order root cause testing
☑ Supplementation guide (15-20% off professional grade supplements)

☑ Private Community
☑ Discounts on group coaching programs
☑ Lifetime access

A Deeper Look Inside the Course:
Module 1: Be An Empowered Hashimotos Patient

Have you been told your labs look normal, but you don't feel normal? In this module, you will be learning the top 3 things empowered patients do, thyroid medication options (and why yours may not be working for you), what optimal thyroid lab work looks like, and common thyroid medication misconceptions.
Module 2: Root Causes of Hashimotos Disease
Are you symptomatic but don't know why? In this module, you will learn where your symptoms are coming from, the step -by- step process for optimal gut healing, and recommended root cause testing options (with availability to order).
Module 3: Foundations of Hashimotos Health
Feeling overwhelmed and don't know where to start? This module will cover all the basics you need to start feeling better right away. You will learn the top 10 keys to foundational health, how to balance your blood sugar, foundations of gut health, best practices for navigating restaurants and social settings, and foundational supplementation.
Module 4: Detoxification
Changed your diet and still don't feel well? This module will take your healing to the next level by teaching you how to safely eliminate toxins from your body that create unwanted symptoms. You will learn how to support your drainage pathways, how to make safer swaps for thyroid and hormone health, and receive a step-by-step mold and parasite protocol (with a practitioner code to order).
Module 5: Heal Your Adrenals
Feeling exhausted and stressed out all of the time? This module will provide you with practical tips and tools to restore your energy and alleviate stress so you can feel like yourself again!
Module 6: Emotional Healing
Do you feel exhausted, but have difficulty resting? This module will walk you through the trauma and Hashimotos connection and the most updated, science based tools for healing your emotional body.

More On What Our Students Are Saying...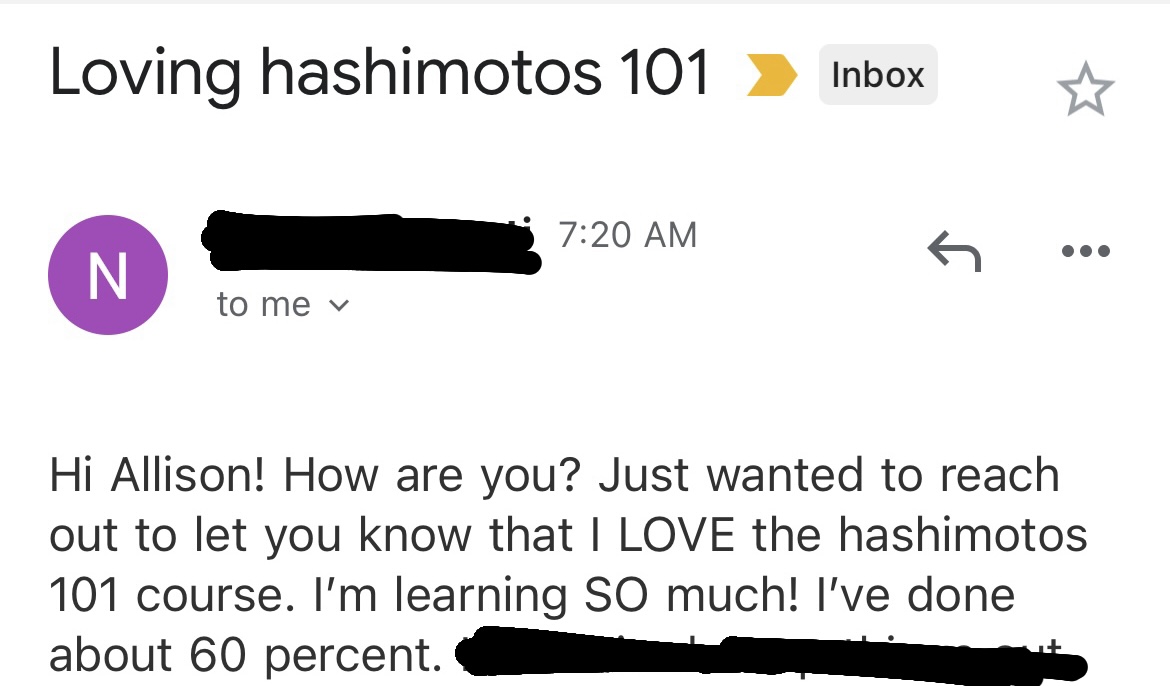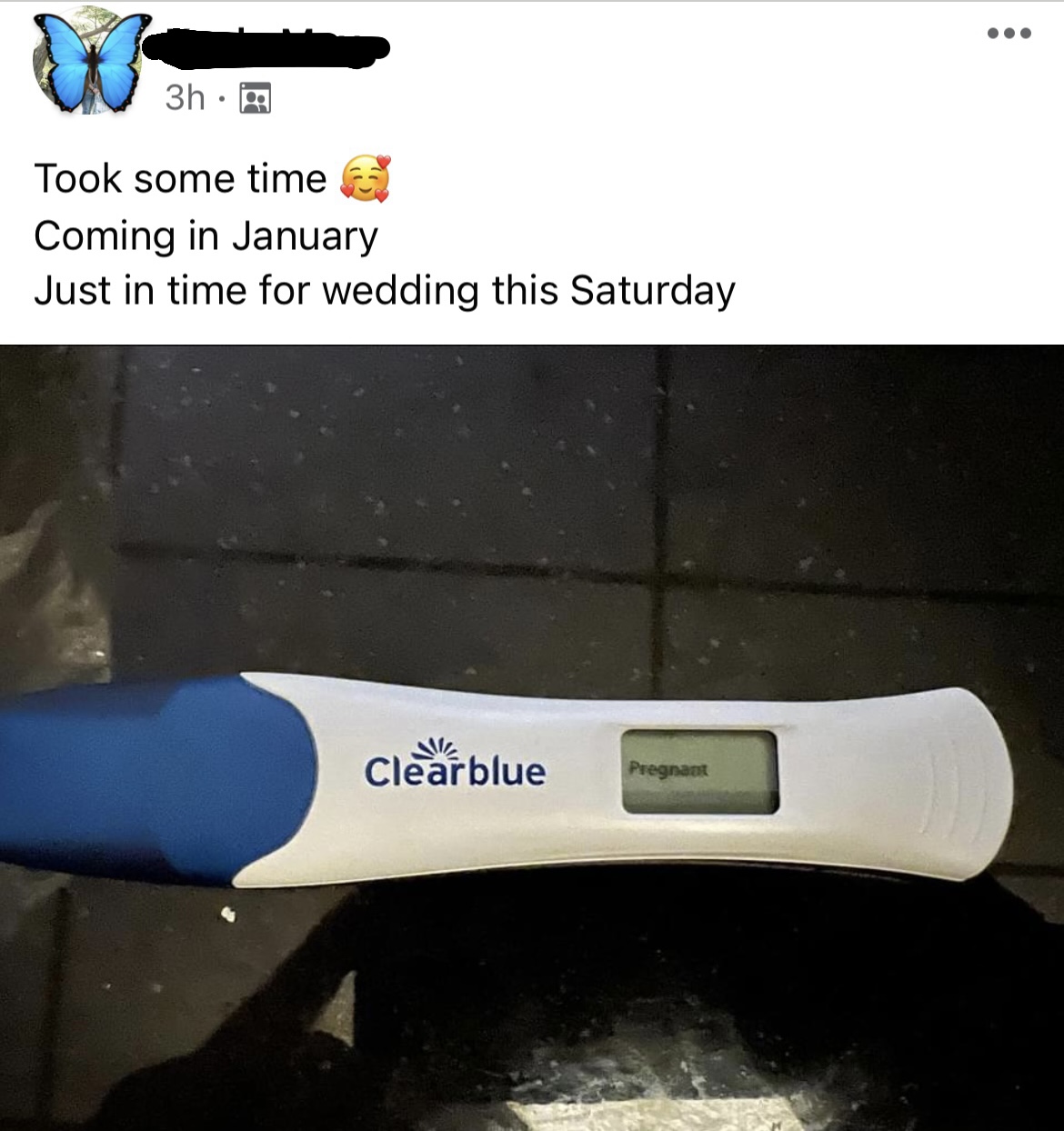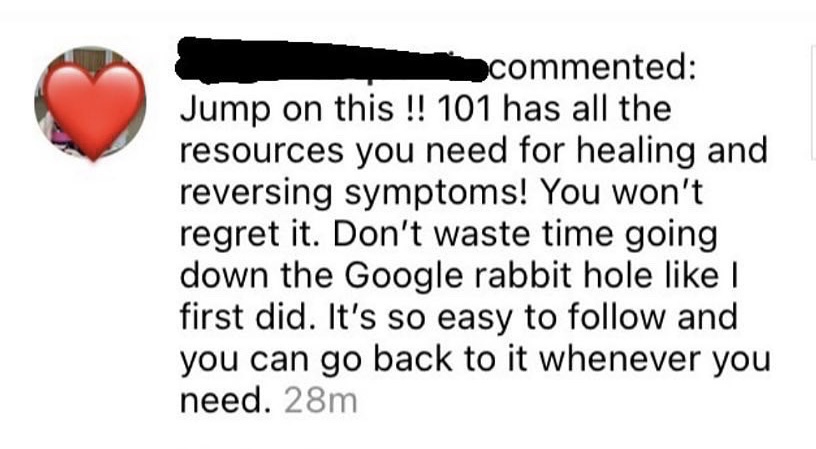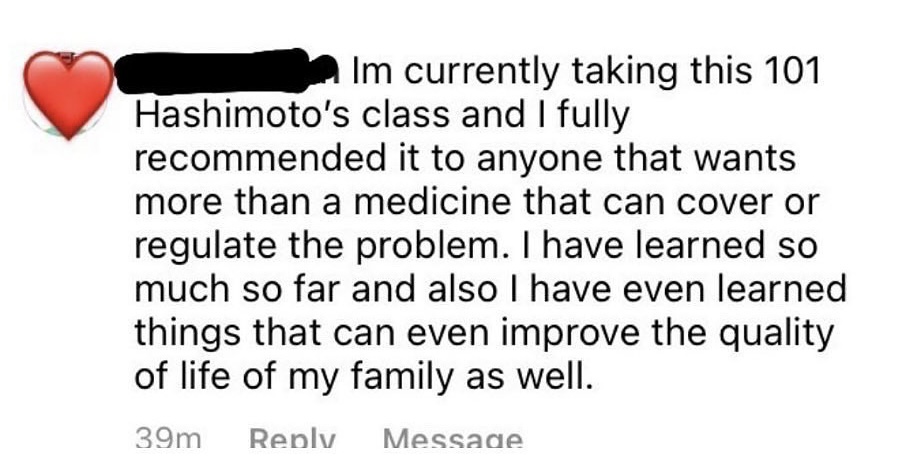 Frequently Asked Questions
☛ When does the course start and finish?
The course starts now and never ends! It is a completely self-paced online course - you decide when you start and when you finish.
☛ How long do I have access to the course?
How does lifetime access sound? After enrolling, you have unlimited access to this course for as long as you like - across any and all devices you own.
☛ What if I've already made dietary changes?
There are ton of layers with having Hashimotos and there is always more to explore beyond just what we eat. This course is for those just starting their journey AND for those who are ready to take their healing to the next level.
☛ Is this for me even if I don't have a thyroid?
Thyroid or not, this course will teach you how to lower inflammation in your body to relieve your symptoms.
☛ Is this course for me if I'm vegan or vegetarian?
This course is for those open and willing to eating animal protein.
☛ Do I need an official Hashimotos diagnosis to enroll?
No official diagnosis is needed to enroll in the course. Your symptoms are valid no matter what. Taking action earlier than later will save you time, energy, and the stress of trying to figure things out all alone. You are completely supported here!
☛ Is the course refundable?
This course is a lifetime commitment to your health and therefore is nonrefundable.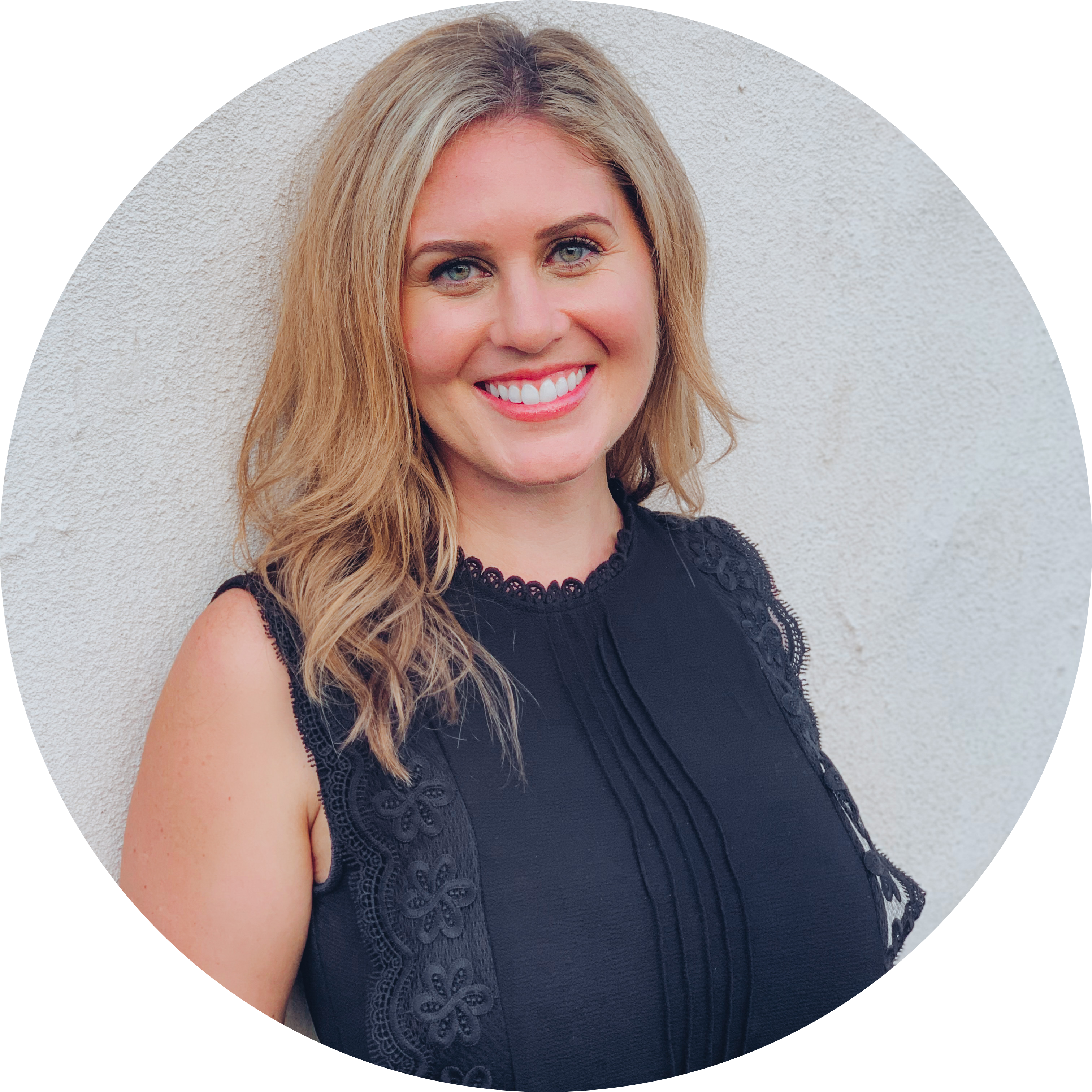 Meet Allison Rassp
Allison is a Certified Holistic Health Coach for women with Hashimotos Disease. After reversing 90% of her own Hashimotos symptoms, her passion lies in educating and empowering women to do the same. She is on a mission to help women reverse their symptoms so they can feel like themselves again.